Are you interested in JCross Oklahoma Natural Beef? Price? Quantity? Cuts? Everything you need to know is right here, we've got all the answers you need:
How to Order
So how much do I order? This is one of the most frequent questions that we get asked when new customers are inquiring about beef for their families. How much to order can depend on your eating habits and the size of your family. Our options to buy beef are whole, half, quarter, and an eighth. We say that generally a half can feed a family of 6 for up to 6 months. If you are unsure or have questions about how much to order give us a call, we'd love to chat with you about it and visit our page on natural beef for more information. Also, here is a good and easy rundown on ordering cuts of beef at dummies.com.
Prices:
So what is the cost? Pricing meat is a bit different than pricing other things. The beef is sold based not on the full weight of the cow but on the hanging weight. The hanging weight is the weight of the animal after it has been fully gutted and dressed. This weight can only be determined when the animal is brought in to be processed. To place an order for JCross Oklahoma Natural Beef we require a non-refundable deposit determined by the order quantity. The deposit amounts are as follows:
Eighth              – $100
Quarter            – $100
Half                  – $200
Whole              – $400
The balance of the bill is due at the time of meat delivery. We cannot tell you the exact price of the beef until it has been fully processed but we can tell you average prices for each cut option.
Eighth               – $300
Quarter             – $600-$700
Half                   – $1200-$1500
Whole               – $2500-$2700
*These are averages based on 2016/2017 prices and are subject to change
Beef Cuts: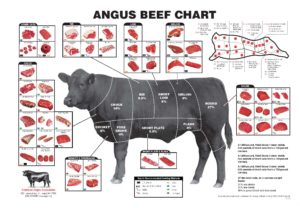 So what do I order? Each order that you place with JCross Oklahoma Natural Beef is specialized to fit your needs. Tell us about your family's eating habits and we will help walk you through a customized order. We will help you figure out what cuts of beef and how much of each cut will best fit your family's needs. Our orders are generally broken into several different sections. Each order of beef will contain your customizable amounts of beef (hamburger meat), steaks, roasts, briskets, etc. Bones and organs are also available upon request. Many customers like to us to include bones in their order, which serve as a delicious treat for other animals such as dogs. For more in-depth information on cuts visit beefitswhatsfordinner and wisegeek.
Health Benefits:
There are countless health benefits to eating all-natural hormone-free beef. JCross Oklahoma Natural Beef is full of protein, iron, amino acids, and vitamins. It contains countless essential nutrients without having the added hormones, preservatives, and steroids that comes with most commercial beef. A product with all these benefits is a cornerstone for building a strong and muscular body. It gives you the energy and fuel you need to live a healthy and active lifestyle. It is a great source of protection for your body because it also helps to strengthen your immune system. JCross Oklahoma Natural Beef is a delicious and healthy option that is optimal for all ages. Give us a call or send us an email for more information and to place an order. Limited supplies available so please don't wait! Don't miss your chance to purchase premier Oklahoma natural beef. We love to serve you!