JCross Ranch is a small, family owned and operated ranch southwest of Tulsa, OK that specializes in Oklahoma Natural Beef.  Desiring healthier beef, Jake and Alisa Jones had raised all-natural, hormone free beef for their own family for several years. Growing up near the country, they had always desired to have a ranch of their own. They made the move from Florida to Oklahoma and after years of planning and hard work, it finally came true. Once they had their patch of land they began the work of building it up.
First, they built a barn, then they started acquiring horses, dogs, and cats. It took many years but they finally attained their dream ranch. Their three girls grew up on the land learning how to work hard, ride horses, and shoot. In the process of figuring out ranch life, Jake and Alisa bought one cow to raise for healthy beef. It was so good that after this they realized that they wanted to continue raising healthy beef for their family. They started their cattle herd out small raising beef for just their family. This didn't last long because soon enough friends and family began to inquire about how they can get some of this all-natural hormone free Oklahoma natural beef for themselves. Realizing what a great opportunity this was, Jake and Alisa decided to increase production and offer JCross Natural Beef to the public.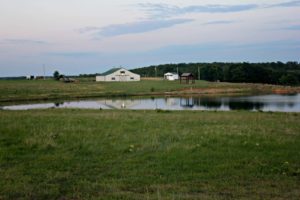 From this moment on, JCross Ranch beef production has simply exploded. Each year we acquire more and more customers. JCross Ranch now regularly sells to many loyal customers and it has become a major source of Oklahoma natural beef. In the beginning of this adventure, they did minimal marketing to get the word out and relied solely on customers spreading the word about how good this beef is. People just can't get enough of this yummy all natural hormone free Oklahoma natural beef. It is such a healthier option for your family with multiple benefits as seen in articles on healthy beef at wellness mama,  foodismedicine, womanshealth. There are so many unhealthy hormone-infused foods these days that it's hard to find healthy options. JCross Ranch is proud to offer peace of mind that we can provide Oklahoma and beyond a clean, healthy product that is good for everyone. If you are interested in how we raise our beef, how we price the meat, the beef cuts we offer, and more, please visit our contact page. We would love to get in touch with you and answer all of your questions.
Along with raising all-natural beef, JCross Ranch is also home to White Barn Events, a rustic and elegant wedding and event center. JCross Ranch has transformed the most scenic part of their ranch into this event venue. They realized the beauty of what they had and wanted to share it with others. Others appreciate the beauty and enjoy renting out this venue to make their event more special. White Barn Events offers an abundance of options to make your event customizable and unique to you. White Barn Events is ready and waiting to cater to all of your needs! Check us out!